Our Story
The story behind Bartlett Therapeutic Massage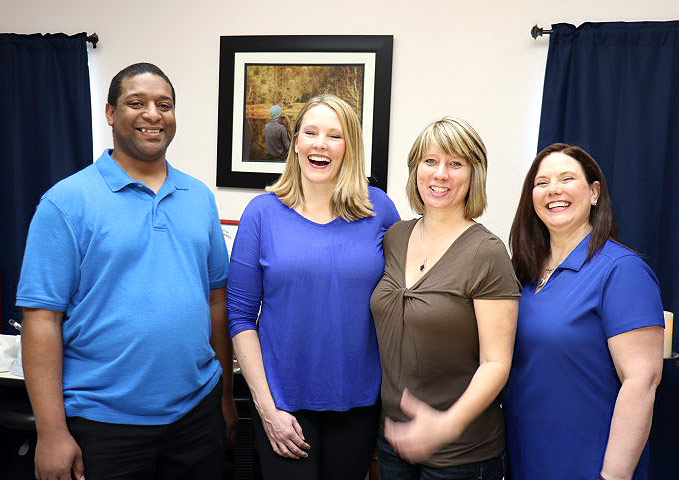 COVID-19 Update and Re-Opening Details
To ensure your visit goes as smoothly as possible please download and fill out the following forms and bring them with you to your appointment:
We plan to re-open at the end of May. Please check back nearer the time for more specific details and exact date
Bartlett Therapeutic Massage takes the safety of its clients (and my family) very seriously. At this time there are many things not known about Covid-19 and since massage is a close contact business we are taking extra precautions to keep all of us safe. We will all have to follow these strict guidelines set by the CDC, the State of Tennessee and Shelby County Health Department in order to operate.
Please check our notice page for full details:
I was originally a database designer, and had no idea that a career as a massage therapist was in my future. After having children I left my job to look after them, and followed my husband to Chicago after a work-transfer.
It was there in Chicago that I got involved in a local cycling team. The team became great friends and helped me through my divorce. It was this team who suggested that I should look into massage therapy. One of my teammates had been to National University of Health Sciences, a chiropractic school with courses relating to chiropractic, Naturopath, Acupuncture, and of course Massage Therapy. I enrolled on their massage therapy program and started my journey.
Being able to support my children became my main motivation for completing the course. I knew failure was not an option, and after studying my tail off I graduated as Valedictorian. I owe a lot to my cycle teammates Ron and Trish who allowed us to stay with them while I finished the program.
I was now ready to start my new life back in Memphis!
I took a few jobs with local companies, but due to bad management things didn't work out. I decided that I wanted to control my own future. With my family relying on me I knew what I had to do – start my own business so I could work on my own terms.
I rented a 10×10 room at another Massage Therapy and this became the home of Bartlett Therapeutic Massage for the next two years. Things really started to take of I knew I'd need some help to grow the business, so I reached out to Bennie and his wife LauraBeth who I had met during my previous work experience.
Bennie agreed to share the space and his wife became the receptionist. I met Ann and Ginger at Brazilian jiu-jitsu practice – my daughter has been training since she was 7 years old. After they found out what we were doing they agreed to become a part of it.
All of the team at Bartlett Therapeutic Massage bring their unique personality to the group and through our collective experience provide a wide range of therapeutic massage services.
Amanda Graham, LMT, BCTMB
Owner, Bartlett Therapeutic Massage